Alternative Karácsony
Rengeteg szerveszkedés, rohangálás, tervezgetés, ajándékvásárlás....
Segítünk, hogy a karácsony is angolra tanítson ;)
5 lépés karácsonyig

Hallgass karácsonyi dalokat angolul

!
Figyeltél? Próbáld meg beilleszteni a szavakat a dalszöveg megfelelő helyére!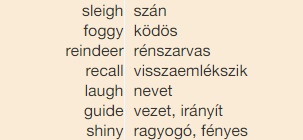 You know Dasher and Dancer and Prancer and Vixen,
Comet and Cupid and Donner and Blitzen
But do you _ _ _ _ _ _ the most famous reindeer of all?
Rudolph the Red-Nosed _ _ _ _ _ _ _ _
Had a very _ _ _ _ _ nose
And if you ever saw it You would even say it glows
All of the other reindeer Used to _ _ _ _ _ and call him names
They never let poor Rudolph
Join in any reindeer games
Then one _ _ _ _ _ Christmas Eve
Santa came to say
"Rudolph, with your nose so bright
Won't you _ _ _ _ _ my _ _ _ _ _ _ tonight?"
Then how the reindeer loved him
As they shouted out with glee
"Rudolph the Red-Nosed Reindeer
You'll go down in history"

Készíts tervet angolul!
Írd le a terveidet az ünnepi időszakra vonatkozóan, de ne magyarul! :)
Adunk néhány ötletet: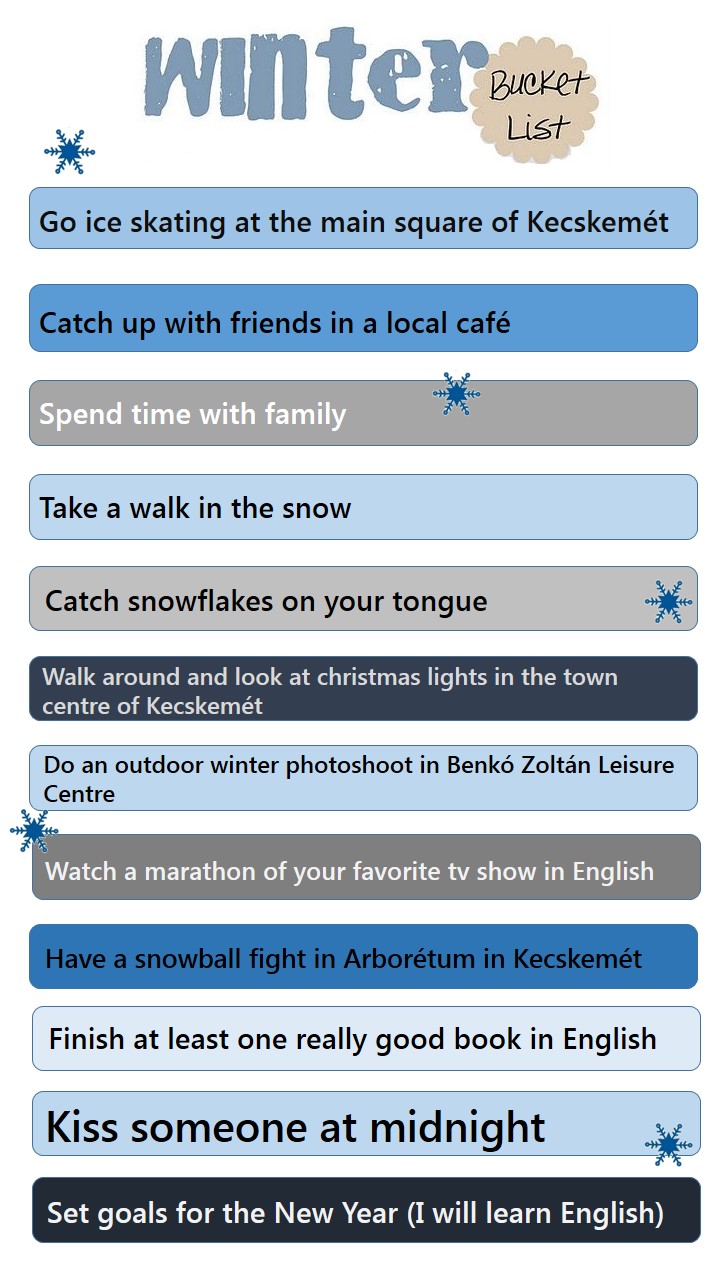 Válassz angol recepteket!
A karácsonyi menü elkészítésénél is gondolj az angolra, és dolgozz idegennyelvű receptekből!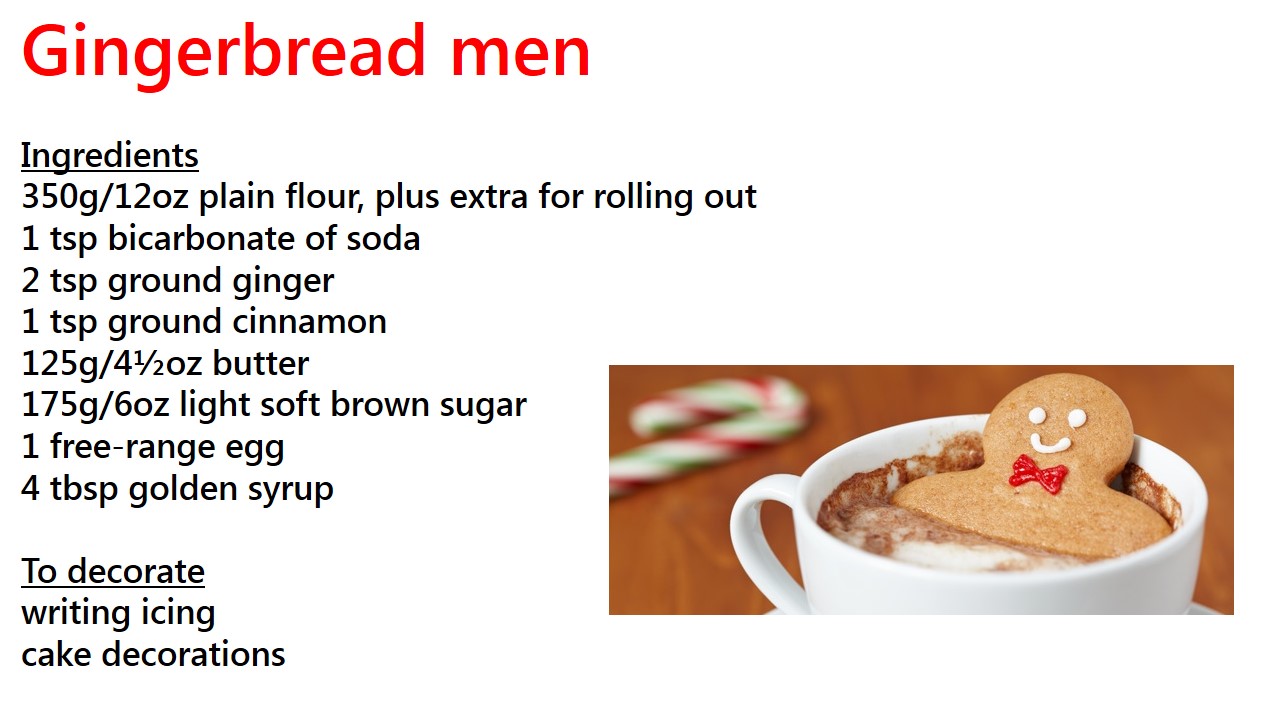 Method
1. Sift together the flour, bicarbonate of soda, ginger and cinnamon and pour into the bowl of a food processor. Add the butter and blend until the mix looks like breadcrumbs. Stir in the sugar.
2. Lightly beat the egg and golden syrup together, add to the food processor and pulse until the mixture clumps together. Tip the dough out, knead briefly until smooth, wrap in clingfim and leave to chill in the fridge for 15 minutes.
3. Preheat the oven to 180C/350F/Gas 4. Line two baking trays with greaseproof paper.
4. Roll the dough out to a 0.5cm/¼ in thickness on a lightly floured surface. Using cutters, cut out the gingerbread men shapes and place on the baking tray, leaving a gap between them.
5. Bake for 12-15 minutes, or until lightly golden-brown. Leave on the tray for 10 minutes and then move to a wire rack to finish cooling. When cooled decorate with the writing icing and cake decorations.

(Recept forrása: http://www.bbc.com)
Érdemes a recept ismeretlen szavait kijegyzetelni.
Elkezdjük Neked :)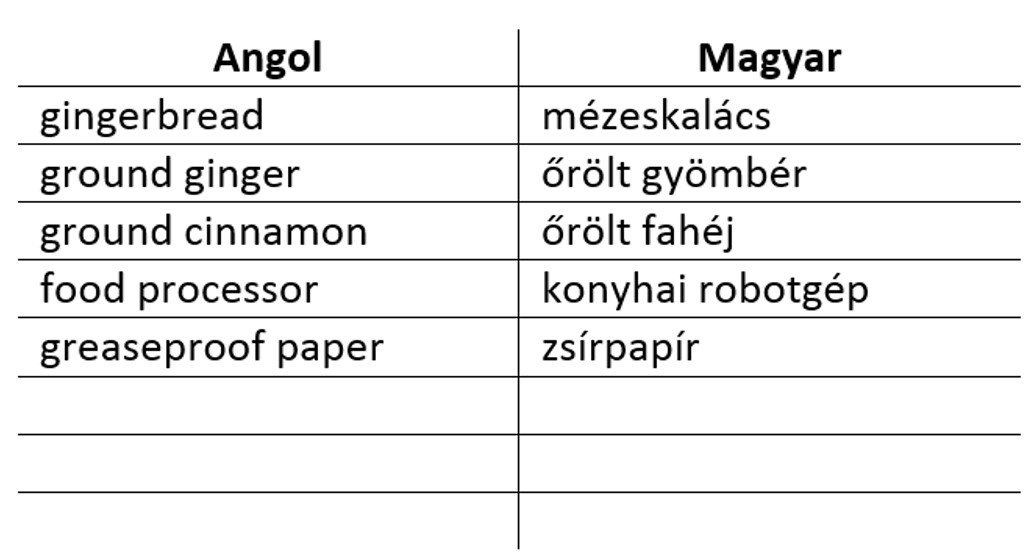 Angol viccek? Igen!
Ha látsz számodra tetsző, karácsonyi képeket magyarul, akkor keresd meg az angol verzióját is, és hasonlítsd össze, mennyire tartod jónak a fordítást.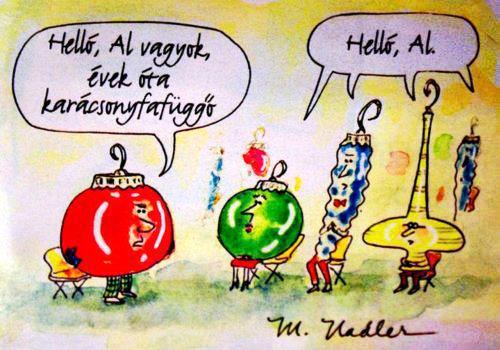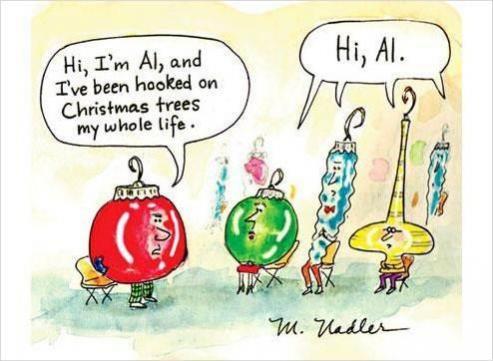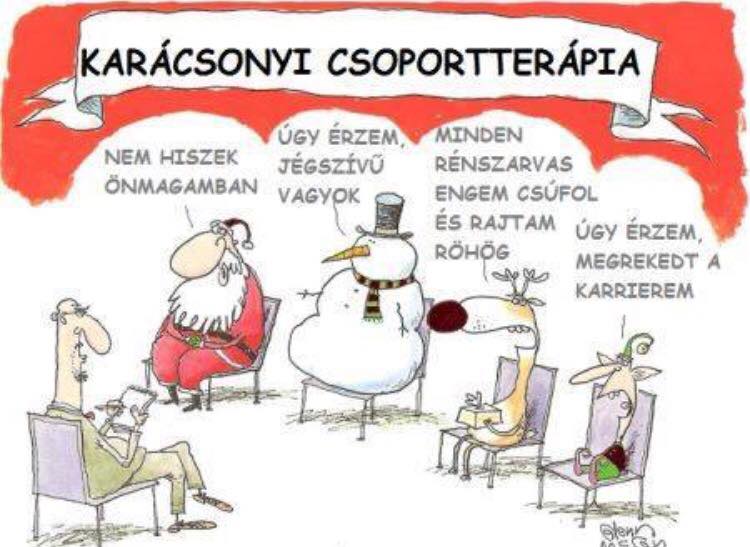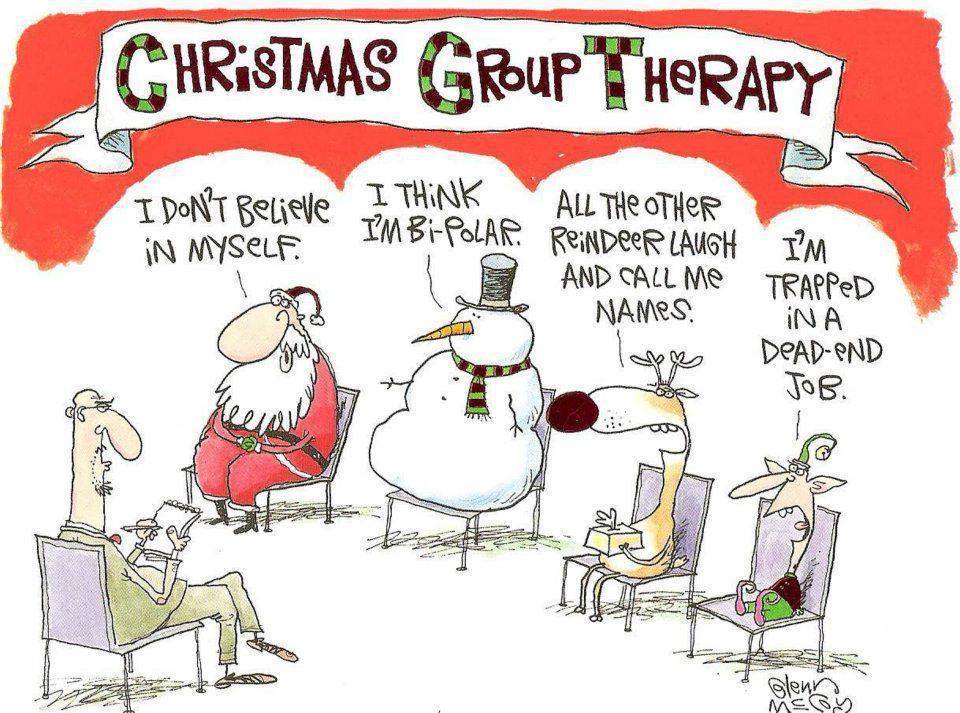 (Forrás: internet)

Keress hasonlóságokat!
Nézz utána, milyen angol kifejezések vannak, amik kapcsolódnak a télhez, a karácsonyhoz és magyarul is szoktuk használni.
Érdekességekre bukkanhatsz ;)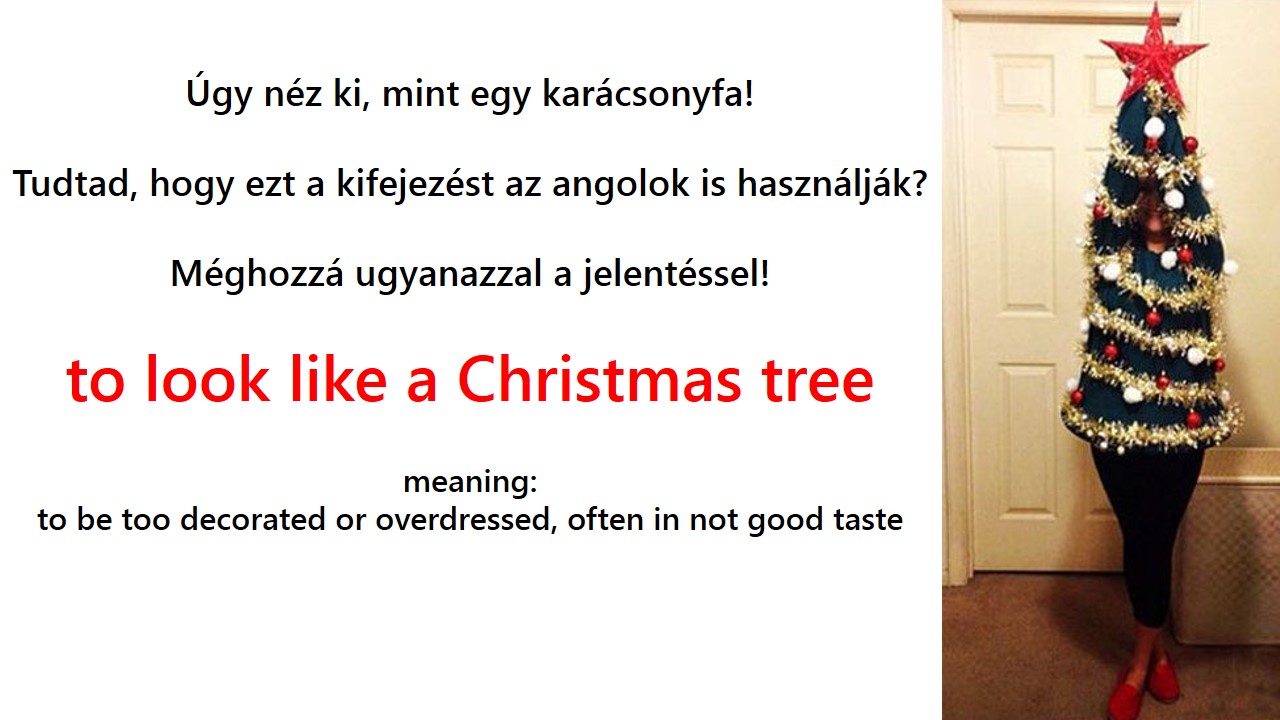 (Forrás: internet)


Tudod, hogy ezek mit jelentenek?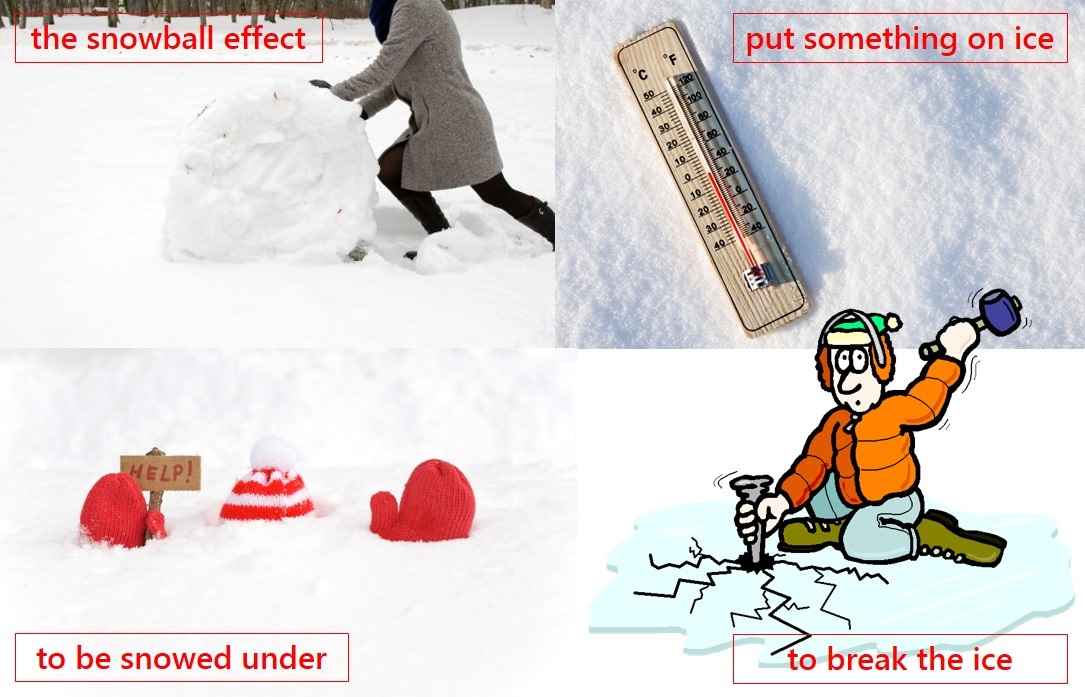 :) Segítünk

the snowball effect - a situation in which something increases in size or importance at a faster and faster rate:
The more successful you become, the more publicity you get and that publicity generates sales. It's a kind of snowball effect.
(http://dictionary.cambridge.org)
be snowed under (with sth) - to have so much work that you have problems dealing with it all:
I'm absolutely snowed under with work at the moment.
(http://dictionary.cambridge.org)
put something on ice - to do nothing about a plan or suggestion for a period of time
I'm putting my plans for a new car on ice until I finish college.
(http://www.ldoceonline.com)
to break the ice – to initiate social interchanges and conversation; to get someting started
It's hard to break the ice at formal events.
(NTC's American Idioms Dictionary – Richard A. Spears)
Ha mindennap léptél egyet a nyelvtanulásért, akkor bizony elérkeztél a várva várt ünnep dátumához.
Ma félreteheted egy kicsit az angolt, és fordítsd figyelmedet azokra,
akik sokat jelentenek számodra.
Legyen Békés Karácsonyod, és Nyelvtanulásban Gazdag Új Esztendőd!